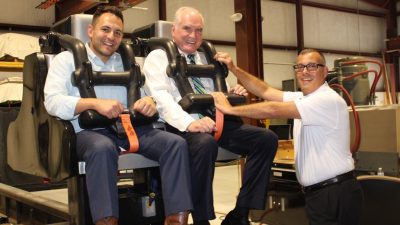 NEW CASTLE, Pa. — From the Canfield Fair to Jurassic Park, the giants of the entertainment industry look to Velocity Magnetics Inc. for a very specialized product.
The company specializes in permanent magnetic frictionless motion-control braking and launching systems made primarily for the amusement industry. What began in Domenic Marzano's garage in 1998 has grown to a supplier of cutting-edge technology sought by theme parks around the world, including Disney, Universal Studios and Ferrari World in Abu Dhabi.
Marzano got the idea after meeting the owner of a ride manufacturer that served the Canfield Fair. The company needed a braking mechanism for a new free-fall drop tower it was working on – and the original mechanism wasn't working, he says.
He started working on a permanent magnetic braking system based on his knowledge of magnets and alloys that he learned at the former North City Motors dealership, which his parents owned.
"I was always fascinated with capacitive-discharge starters and the solid-state ignitions being developed in cars," he says. "All that was based on magnets."
In the late 1980s and early 1990s, magnetic alloys became more powerful, "which allowed you to accomplish some amazing things." By the turn of the century, the technology was perfected, he says, "which allowed me to develop a compact, permanent magnetic brake to stop a 15,000- to 18,000-pound gondola. From there, it's been history."
Marzano retired from his job as a trooper with the Pennsylvania State Police and took out a $250,000 line of credit to help him pay bills. He saved for three to five years until he had enough to hire a few employees and, in 2005, build the first phase of his shop at 200 Green Ridge Road. The site was built new with 17,000 square feet including offices.
"I didn't take on any partners, equity firms or banks," he says. "I had a small line of credit and kept utilizing it and paying it off. I took real baby steps."
Marzano didn't want partners he might have to buy out one day, he says. He maintained a conservative growth model, paying in whole for any equipment or vehicles and not stretching himself too thin, he says.
"I probably could have gone bigger faster, but the IP [intellectual property] was so sensitive, I didn't want to get pushed out of my company," Marzano says. "We did so much work a year – and that was it. As long as we were in the black, I was happy."
He admits the first 10 years were a struggle. Then things started to flow. Marzano never set any sales goals, but says the company was able to handle about 30% annual growth.
"Some years it's been 50%, but I like to keep it between 35% to 45% growth every year," he says.
The company has since expanded its space to 45,000 square feet where 28 employees build the systems from scratch. Coating application is the only work outsourced to vendors within an hour's drive.
As technology advanced and customer needs increased, Marzano continued to develop better control over his intellectual property. "Now it could really go nuts," he says. "We could launch airplanes off of aircraft carriers with this technology."
At 95% more efficient than similar systems, Marzano's technology is regarded as "the Bentley in the industry," he says.
Still, landing world-renowned theme parks as customers is "a crawl process" that takes years, he says. Velocity Magnetics started doing small engineering designs for the parks, including test pieces and fixtures. It usually takes a year or two until a customer is ready to contract a large project, which "is a great feeling," he says.
"Today, we handle their complete motion control from soup to nuts," Marzano says. Velocity Magnetics has worked with amusement parks in dozens of countries throughout Asia and the Pacific Rim, the Middle East and the United States.
The systems are primarily used on thrill coasters or motion-control coasters for high-speed launching, says TJ Marzano, vice president and chief operating officer as well as Domenic's cousin. All systems are tested on-site using more than one test bed, including full-scale test beds that customers – and this reporter – can strap in and experience themselves as they are being launched 20 mph at 1.5G.
Two years ago, the company worked on the Lightning Rod roller coaster at Dollywood in Tennessee, making it the first wooden roller coaster to use a launching system. Typically on wooden coasters, a chain pulls the train over the lift hill, Marzano says. The system from Velocity Magnetics launches the train on the Lightning Rod from zero to 48 mph to the top of its 35-degree lift hill, he says.
"That broke the Guinness Book-world record for the fastest wooden roller coaster of all time," he says.
Systems have also been used in television shows and major motion pictures, Domenic Marzano says. A scene from "Jurassic World" shows two of the actors in a round, glass bubble rolling off a cliff and into the ocean. "They were literally on a roller coaster track and our brakes were mounted to the round bubble," Marzano says.
The amusement industry is "getting very close to hockey-sticking high," says TJ Marzano, who predicts new parks opening in China as well as development domestically will drive the industry to be "the busiest that it's ever been" in the next five years. In addition, Velocity Magnetics looks to diversify into materials handling, automation and automotive, as well as some contract work, he says.
As business increases, the company will need to hire, which can prove challenging.
"We all wear multiple hats in order to assist the company's growth and progress," Marzano says. "Because of what we do and how we do it and how specific it is, there's nobody that's going to walk through these doors and be like, 'Oh, I know everything there is to know about linear permanent magnetic-motion control.' Because it's new technology and we've developed a lot of it. Intelligent, bright engineers that are driven are very much needed in the small-business realm."